Newark, Delaware, February 4, 2019 – On the heels of recent FDA approvals of gene therapies in the US market, QPS, a GLP/GCP-compliant contract research organization (CRO) supporting discovery, preclinical and clinical drug development, today announced a three-fold expansion of its U.S.-based Translational Medicine division, which supports nucleic acid therapeutics. Gene therapies treat the underlying genetic cause of many diseases by introducing nucleic acids into cells to compensate for abnormal genes and thus, restore proper, healthy cell behavior.
According to a recent study published in the Annals of Internal Medicine, close to 20 percent of the population have mutations in their DNA linked to genetic diseases. "Gene therapy will become important in treating, and possibly curing, the neediest of more than 1.5 billon people who have mutations linked to genetic diseases," said John L. Kolman, Ph.D., Vice President and Global Head of Translational Medicine, QPS.  "Many pharmaceutical and biotech companies are diverting resources to develop gene therapy candidates, and they choose QPS because we've been in the gene therapy bioanalytical space from the beginning. Our team of scientists has extensive experience helping sponsors measure nucleic acid drug pharmacokinetics (PK), biodistribution and clearance. Additionally, by measuring secondary targets and biomarkers, QPS enables partners to demonstrate that their therapeutics are delivering the corrective effects expected."
Organizations seek out QPS as a CRO partner because the company's scientists understand the regulatory landscape, have proven expertise designing custom nucleic acid assays for drug molecules as well as biomarkers, and have all the key platforms to support nucleic acid drug quantitation.
In response, QPS has tripled the footprint of its Translational Medicine site in Delaware to meet growing demand for gene therapy treatments. "Our partners require this level of scientific support as they work to find cures for these difficult and previously incurable diseases. In fact, one of our partners recently began a First in Human clinical trial of a lead candidate drug to replace a key protein, the absence of which is the underlying cause of the disease indication," Susan Zondlo, Ph.D., Director of Bioanalysis, QPS Translational Medicine, said. "This partner started working with QPS in the early preclinical phase. Our high-quality, on-time delivery led the partner to choose QPS, again, for the clinical trial."
"We provide multiple assay platforms including qPCR, chromatography and mass spectroscopy, making it possible for us to measure nucleic acid therapeutics of different modalities," Zondlo said. "So, whether it's a viral vector used for traditional gene therapy, an mRNA encoding a replacement protein, an siRNA to downregulate gene expression, or the downstream targets of any of these strategies, we have the solutions that our partners need."
QPS is currently working with a partner on small molecule biomarkers that measure the efficacy of a new nucleic acid drug to treat a rare disorder. "Our ability to deliver critical data on short notice is one of the many reasons this particular partner chose QPS," Zondlo said.
QPS is working with several partners to perform PK analysis and clearance of "armed" oncolytic viruses to combat solid tumors. "Our team is measuring the expression of viral transgenes in tumor and normal cells to demonstrate targeted action of the drugs. A number of partners have promising nucleic acid lead candidates for treatment of cancer patients," Zondlo said.
QPS has participated in numerous specialized gene therapy studies in multiple capacities including: distribution of a drug in the circulation and target organs of test animals, drug clearance to ensure the viral vectors leave the body harmlessly, mRNA trials seeking to replace a dysfunctional protein, as well as those designed to deliver on the promise of CRISPR genome modification. QPS further supports genome-based therapies of the future by providing DNA genotyping so partners can enroll the correct patients in their clinical trials.
The expansion of the company's Translational Medicine division enables QPS to support additional partners as they respond to the growing demand for next-generation drug therapies.
Photos: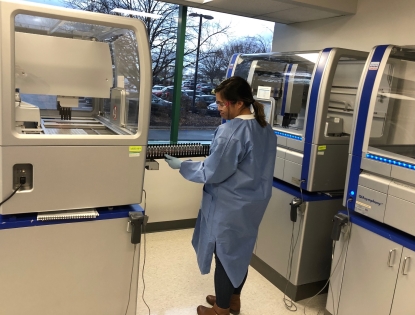 At QPS in Newark, Delaware, samples are loaded onto a QiaSymphony SP instrument for automated DNA extraction in the Extraction Room of the newly expanded Gene and Sequence Analysis suite. The extracted DNA will be tested for the presence of a viral vector used in a gene therapy trial to assess clearance of the vector.
The reagent deck of a QIAgility Liquid Handler in the Assembly Room at QPS in Newark, Delaware. These robotic systems improve precision and reproducibility when assembling PCR reaction plates in a 384-well format.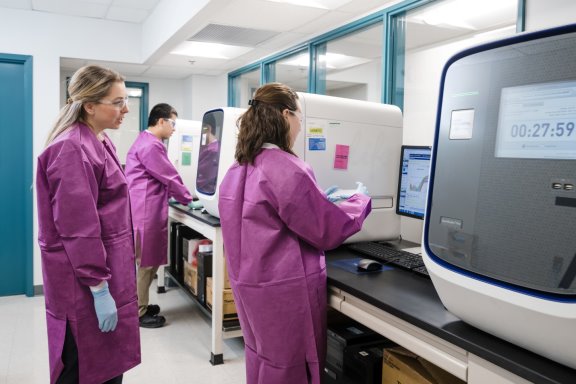 QPS analysts perform TaqMan analysis using the QuantStudio instruments in the Analysis Room of QPS's expanded Gene and Sequence Analysis suite in Newark, Delaware. This analysis can be used to quantitate vector sequences, measure copies of mRNA drugs, or determine the relative levels of gene expression of downstream targets.