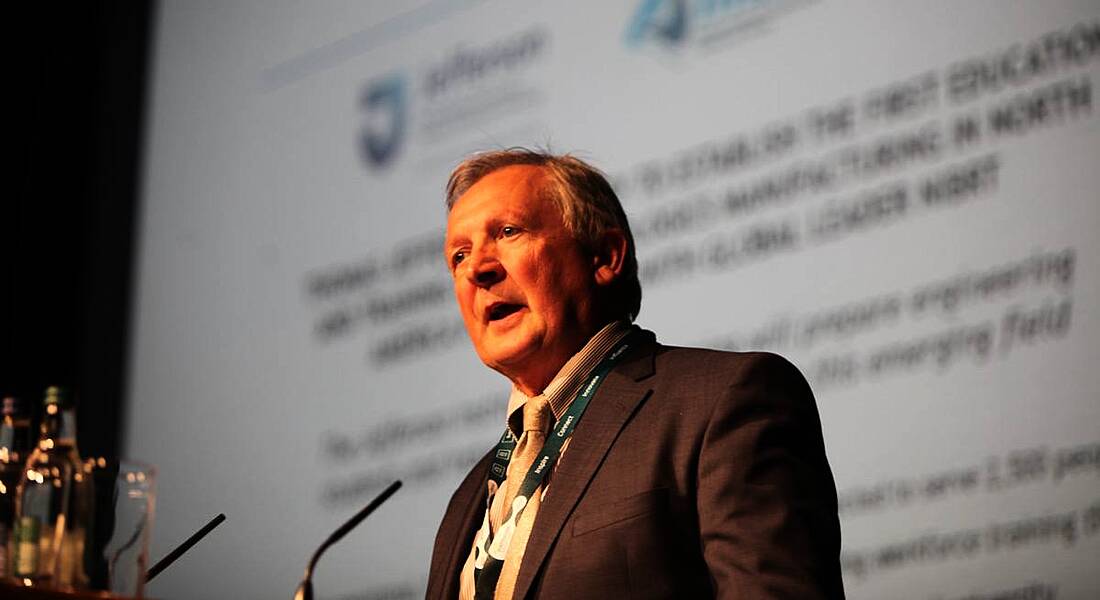 Ireland is at the forefront of the biologics trend that is transforming the traditional pharma and biopharma industries.
Up to 8,000 jobs are available between now and 2020 in the biopharma industry – and more will follow – if Ireland grasps opportunities in biologics.
That's the view of Dominic Carolan, CEO of the National Institute of Bioprocessing Research and Training (NIBRT).
Carolan was speaking with Siliconrepublic.com at BioPharma Ambition, a major international conference staged in Dublin, hosted jointly by the Irish Pharmaceutical Healthcare Association (IPHA), IBEC's BioPharmaChem Ireland and NIBRT.
The conference, which was attended by leaders and experts from across the global biopharma industry, heard that Ireland has plenty of ambition in this field, with total exports of €67.8bn in 2017.
Ireland is a leading global hub for the biopharmaceutical industry. 10 out of the top 10 global pharma giants have operations in Ireland and 60,000 people are employed directly and indirectly in the biopharma, pharma and chemical sectors.
The biologics opportunity
Biologic pharmaceuticals are manufactured in a living system such as a microorganism, plant or animal cell, often utilising recombinant DNA technology.
The development of biologic pharmaceuticals is increasing rapidly, representing a major shift in the industry from traditional chemical synthesis techniques.
More than 40pc of therapeutics currently in research and development are biopharmaceuticals.
In recent weeks, we reported that pharma giant MSD is to create up to 350 jobs at a new biologics facility that will be known as MSD Biotech. The new plant will be constructed on existing MSD-owned property where its former Swords facility was located.
Carolan said that the reason Ireland has excelled in the industry and is a forerunner in capturing the biologics trend is purely down to talent.
But he warned that Ireland will need to double-down on teaching STEM subjects to ensure that we produce the graduates to keep up with industry demand.
"Actually, there's 8,000 direct jobs in this industry from now to 2020. There's a huge amount of jobs becoming available due to the start-up companies that the IDA have been able to attract and expand in Ireland.
"A lot of that is due to the talent, so the industry needs this talent and needs the engineering jobs; it needs the science-based skills that are important. NIBRT can then bring a lot of these science-based graduates [and] give them a great appreciation for biopharma so that they are ready to be attracted into these jobs by industry."
A special formula for talent
Ireland's chemical and pharmaceutical industry's origins can be traced back to the 1970s when it began with traditional chemical manufacturing.
"Now, there's an evolution in biotech, giving rise to a large molecule biologics industry where we are using the science of genetics to help us cure disease," explained the chair of IBEC's BioPharmaChem Ireland, Matt Moran.
"Also, we are seeing the use of digital technology, which affects all our lives and how drugs and therapeutics are delivered. So today, we are talking about Factory 4.0, which really means how you are using data, how you are interpreting data, and letting it make you manufacture drugs more efficiently, more effectively and reliably."
Ireland's prestige in biopharma skills and the global reputation of NIBRT has resulted in the latter joining a major collaboration involving Philadelphia University and Thomas Jefferson University.
In an unprecedented global partnership, NIBRT will help Jefferson to establish the Jefferson Institute for Bioprocessing, the first – and only – education and training institute for biopharmaceutical processing in North America.
"Jefferson is built on anticipating the emerging professions that will be commonplace 10 years from now, and educating students in those disciplines today," said Stephen Klasko, MD, MBA, and president and CEO of Thomas Jefferson University and Jefferson Health.
"In an increasingly global world, Jefferson and NIBRT are leveraging our respective strengths and creatively partnering to bring unprecedented value to students and industry."